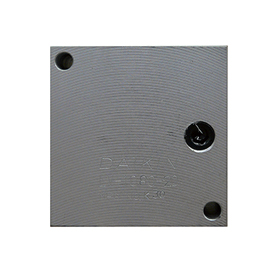 Overview
The LV-100 is a completely progressive operating type of distributing valve. When lubricant is supplied, the pistons operate successively, and lubricant is automatically distributed to each of the discharging ports in a specified amount.
The maximum operating pressure has been increased to 21 MPa, and discharging ports have a built-in check valve for preventing reverse action.
Lubrication points can be centrally controlled by combining this valve with the DV and DW type distributing valves and adopting a progressive system.
Features
• Maximum Operating Pressure of 21 MPa
Application of higher pressure improves lubrication reliability and enables lubrication over a wider area.。
• Completely Progress Operation Type
This distributing valve is a progress operation type mechanism, which means that reliable lubrication can be assured.
• Reliable Lubrication
Lubrication can be performed reliably regardless of the back pressure of the bearings, length of the supply line and other factors as a check valve is built into the discharging port.
• Lubrication Points Can Be Centrally Controlled
A larger number of lubrication points also can be centrally controlled by checking operation on the DV and DW type distributing valves.
Specifications
Model
LV-106C
LV-108C
Number of discharging ports
6
8
Max. operating pressure (MPa)
21
Pressure resistance (MPa)
31.5
Min. operating pressure (MPa)
1.2
Discharge quantity (cm3/port)
0.16
Supply port diameter
Rc1/4
Discharging port diameter
Rc1/8
Grease Used
Centralized lubricating grease NLGI consistency #0 to #1
Weight (kg)
1.7
Accessories
Cross recessed pan head screw M6 x 60, spring washer, hexagon nut
Explanation of Model Symbols