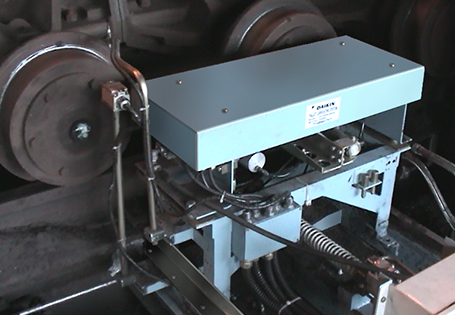 Overview
Pallet trolleys and cooler trolleys in sinter plants in ironworks play an important role in continuous manufacturing processes in iron foundries.
This equipment automatically lubricates the wheel bearings of trolleys with an adequate amount of oil during operation to extend the service life of facilities and prevent hazards.
Features
• Extended Service Life of FacilitiesLubrication with an adequate amount of oil prevents wheel lubrication defects, improves the operating rate of facilities, and also can reduce power costs.
• Improved Work Efficiency
The time required for repair and replacement, etc. of the trolley due to defective rotation of the wheels caused by defective lubrication and lifting of the trolley is reduced, which improves work efficiency.
• Labor Savings and Prevention of Hazardous Work
Automatic lubrication can be easily and reliably performed as this feeder is driven by factory air and trolley moving force. This both saves personnel expenses, and prevents hazardous work and missed lubrication.
Specifications
Air supply pressure
0.4 to 0.5 MPa
Lubricant supply pressure
5 to 15 MPa
Air supply pressure
1 NL(at 0.4 MPa)
Pallet trolley speed
2.4 to 3.5 m/min
Wheel pitch
740 to 760 mm
Wheel diameter
300 mm
Wheel vertical run-out tolerance
±4mm
Wheel horizontal run-out tolerance
±25mm
Discharge quantity
5 cm3/stroke
Adjustment amount per rotation of adjusting screw
0.15 cm3
Lubricant used
Lubricant supply pressure
NLGI consistency No.0 to No.1 grease
Ambient temperature
5 to 60°C
Explanation of Model Symbols