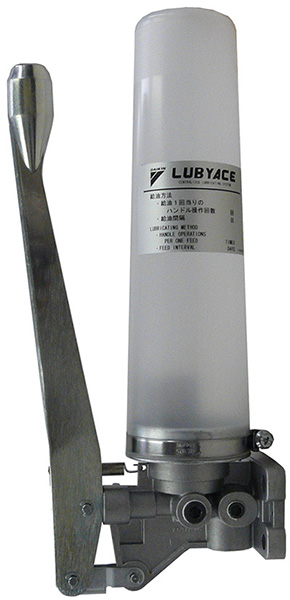 Overview
Manually operated pump for LUBYACE (single line)
High consistency (NLGI No.2) grease can be used.
Features
• A very simple design. Just one pipe on a single line centralized lubricating system.
• 2 types of grease replenishment: cartridge and follower plate type.
Preventing contamination of dust or dirt without polluting hand.
Specifications
Model
LBO4C
LBO5F
LBO5F-※※-N
LBO5B
Discharge quantity cm3/stroke
0.6
Max. operating pressure MPa
17
7
Tank specifications
Cartridge  type cm3
400
-
-
-
Follower plate type cm3
-
500
500
-
Oil type cm3
-
-
-
500
Lubricant used
NLGI consistency No.0 to No.2 (lithium-based)
ISO VG 68 or 100
Operating temperature range °C
0 to +50 (No.2 grease)
-5 to +50 (No.0 to No.1 grease)
-5 to +50 (No.0 to No.1 grease)
Vibration resistance G
3.0
8.9
Weight (kg)
1.0
1.1
Explanation of Model Symbols