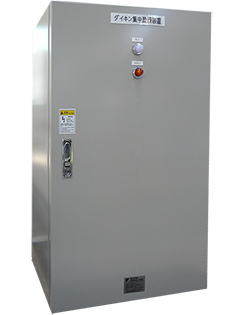 Overview
This pump unit integrates a grease pump for single lines and a controller so that automatic lubrication can be easily introduced into production lines.
Features
• This pump unit for single lines is preset with a control panel. Piping and wiring can be easily installed on site.
• System for integrated microcomputer built-in type single line
Control of single line centralized lubricating systems is integrated into the LC2M type controller. This achieves a more compact control unit. Supply by only the LC2M type controller also is possible.
Controller type for single lines: LC2MP-40-LA1
• Compact, High-Functioning Pump
An LE type pump with a proven track record in construction vehicles and machine tools is used for the pump unit. Stable discharge performance can be assured even under poor temperature, vibration or other conditions.
• Unit withCase (Protective Construction ip54 or Equivalent)
This can be used outdoors so automatic greasing of various machinery is supported.
Specifications
Max. operating pressure (MPa)
14/21
Discharge quantity (cm3/min)
12
Power supply (3-phase)
200/220 V AC (50, 50/60 Hz) (motor power supply 24 V DC)
Grease used
Grease used NLGI #0 to #2
Piping system
Single line type supported
Control specifications
Automatic pump operation, automatic stop,start of operation after arbitrary down time,
automatic stop at completion of lubrication(Down time, operation time and number of
lubrication cycles are selectable and can be adjusted.)
Failure detection (batch, contact output)High pressure, cycle error, low oil level,
system stop/alarm display (lighting of lamp)at low oil level,
Total weight (kg)
Approx. 85
Explanation of Model Symbols