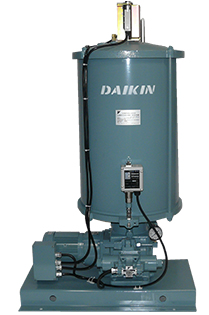 Overview
This motor driven grease pump is used in dual line systems. This pump helps to reduce lubricating system costs by supporting smaller size pipes and wider range lubrication which has resulted from the application of higher pump pressures and larger discharge quantities.
Features
• Proprietary Pump Structure and High Transmission Efficiency Drive Mechanism
• Proprietary Pump Structure
The pump mechanism based on a proprietary piston structure realized twice high pressure and larger discharge quantity even with regular capacity motors. <Patent Obtained> (discharge pressure 21 MPa with 0.75 kW motor → 40 MPa, discharge quantity 194 → 400 cm/min (50 Hz))
• Connection to High-pressure Compatible Piping
Pipe connection port and replenishing port support pressures up to 40 MPa by parallel pipe thread connections.
Specifications
Model
Max.
operating
pressure
MPa
Discharge
quantity
(cm3/min)
Pump
Gear motor kW x 4 poles
Tank
capacity
(L)
Piping
system
Weight
(kg)
Rotation
speed
(min-1)
Speed
reduction
ratio
50Hz
60Hz
50Hz
60Hz
Capacity
Voltage and frequency
UE-30A※S※※※-10
40
133
160
25
30
1/60
0.4kw
200V
50/60Hz
220V
60Hz
90
End type and
Lance type
300
380V
50Hz
400V
50/60Hz
440V
60Hz
UE-40A※S※※※-10
200
240
37.5
45
1/40
200V
50/60Hz
220V
60Hz
380V
50Hz
400V
50/60Hz
440V
60Hz
UE-45A※S※※※-10
400
480
75
90
1/20
0.75kw
200V
50/60Hz
220V
60Hz
380V
50Hz
400V
50/60Hz
440V
60Hz
*For details on outdoor type, consult us separately.
Explanation of Model Symbols
• Before pump operation, fill the crank chamber fitted into the tank bottom with lubricant (gear oil Class 2, VG220 JIS K2219 or equivalent) up to the designated oil level (approx. 5 L) marked in red.
• Replace the lubricant in the crank chamber 200 hours after the start of operation and check every 2,000 hours from then on.
• In this diagram, S: 1-stage low, high is indicated for the tank control system.