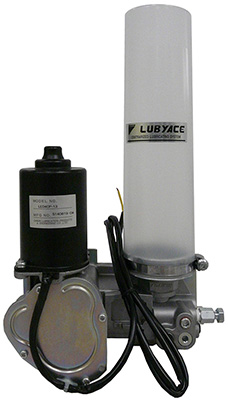 Overview
Compact variable displacement pump for LUBYACE (single line)
High consistency NLGI No.2 grease can be used.
Features
• The motor driven pump eliminates the trouble of replenishing.
• Very simple design. Just one pipe on a single line centralized lubricating system.
• 2 types of grease replenishment: cartridge and follower plate type.
Preventing contamination of dust or dirt without polluting hand.
Specifications
Model
LE04CP
LE05CP
LE10CP
LE05FP
LE10FP
LE05BP
LE10BP
Discharge quantity cm3/min
12.0
Max. operating pressure MPa
17
7
Tank specifications
Cartridge type cm3
400
500
1000
-
-
-
-
Follower plate type cm3
-
-
-
800
1600
-
-
Oil type cm3
-
-
-
-
-
800
1600
Power supply
Voltage V
DC24
Capacity A
3.0
2.0
Lubricant used
NLGI consistency No.0 to No.2 (lithium-based)
ISO VG 68 or 100
Operating temperature range °C
0 to +50 (No.2 grease)
-5 to +50
-5 to +50 (No.0 to No.1 grease)
Vibration resistance G
3.0
8.9
3.0
Protection type
Drip-proof type (Note, however, that it must not be exposed to the outside.)
Weight kg
3.0
3.3
3.4
3.3
3.4
3.3
3.4
Model
LE04CB
LE05CB
LE10CB
LE05FB
LE10FB
Discharge quantity cm3/min
8.3/10(at 50/60Hz)
Max. operating pressure MPa
17
Tank specifications
Cartridge  type cm3
400
500
1000
-
-
Follower plate type cm3
-
-
-
800
1600
Motor
Power Supply
200 V AC, 50/60 Hz, 3-phase
Number of poles,
output
4P,25W
Rating
0.30 to 0.26 A (10-minute rating)
Grease used
NLGI No.0 to No.2.
Operating temperature range °C
-5 to +50
(Note, however, that the minimum temperature for No.2 grease is 0°C.)
Vibration durability
JIS D1601 Class 3 (3G)
Protection type
Drip-proof type
(Note, however, that the pump must not be exposed to the outside.)
IP53 or equivalent
Weight (kg)
4.7
5.0
6.1
5.0
6.1
Explanation of Model Symbols